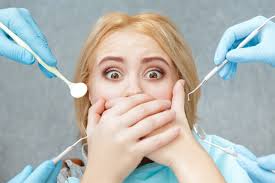 One of the most common reasons people avoid visiting dentists is fear or dental anxiety. This dental fear or dental anxiety can be either due to fear of pain or past negative dental experiences. If you feel this way about the dentist, you should know you're amongst the millions of people who experience similar feelings about their dental appointments.
Even though dentistry has made great strides to increase comfort for patients, traditional methods can still cause some discomfort, and for some patients, that causes them to avoid the dentist entirely and jeopardize their dental health. However, technology has improved dental health over the past several decades. With recent advancements in technology and dentistry, you can now experience painless dentistry at many best dental clinics in Mumbai and we're proud to say The Dental Bond is one of them.
What is painless dentistry?
Painless dentistry involves using different pieces of technology in combination with sound knowledge of physiology and gentle management of the tissues to give you a painless dental experience. At The Dental Bond, we understand how you feel, and we offer solutions to help our patients receive the very high-quality dentistry they deserve in the most comfortable dental practice environment.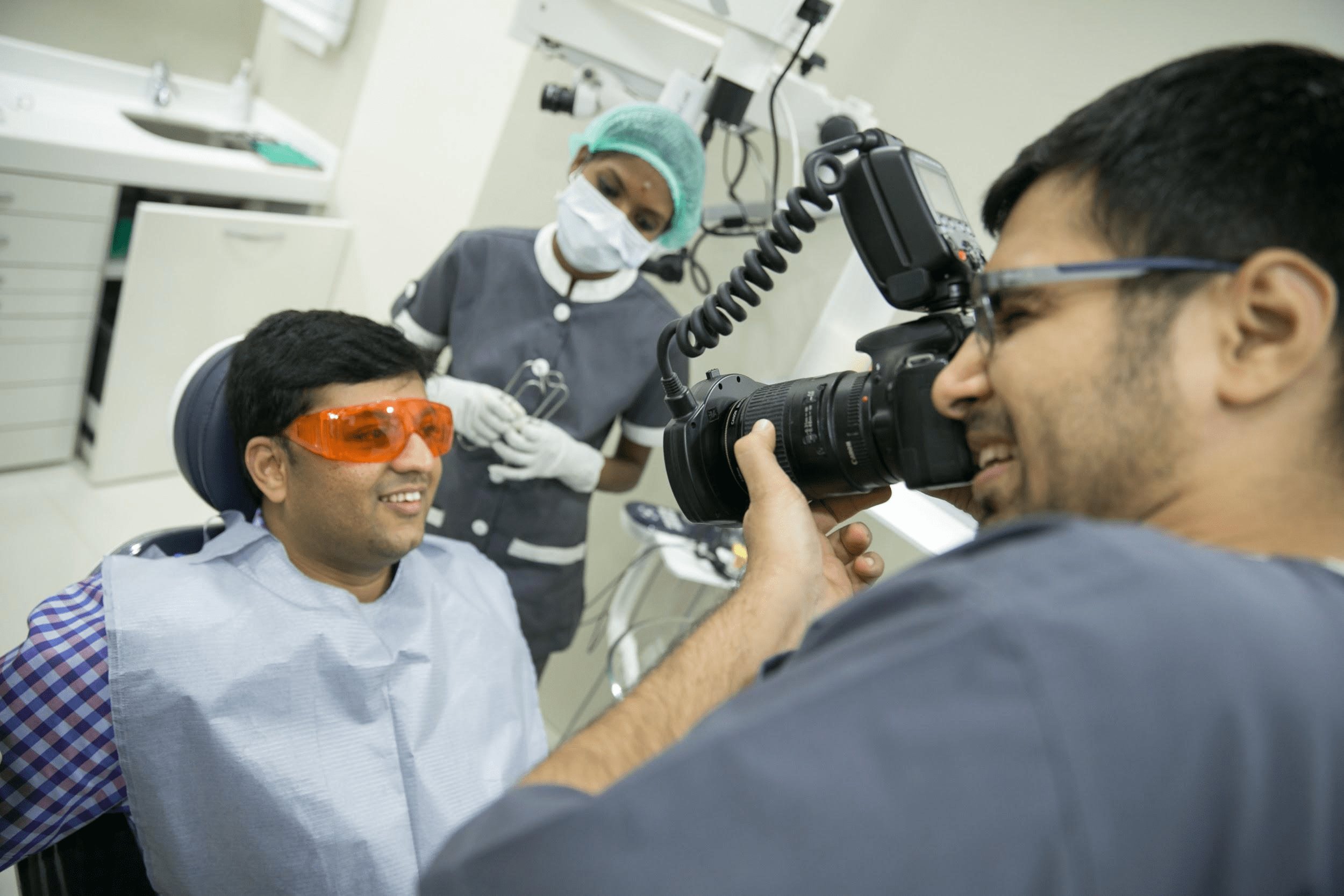 Anxiety is basically the fear of the unknown. The Dental bond one of the best dental clinics in Mumbai follows a very transparent approach that involves- taking pictures of your teeth, educating yourself about the concerns, possible solutions, priority discussions. This process allows for more informed decisions, better compliance resulting in pleasant outcomes and happy dental experiences.
For some, this may not be enough because of an unpleasant experience in the recent past or even during childhood. Advanced solutions exist for higher levels of anxiety in the form of sedation.
Sedation Dentistry
Nitrous Oxide Sedation
Medication
Intravenous sedation
General anesthesia
1)Nitrous Oxide Sedation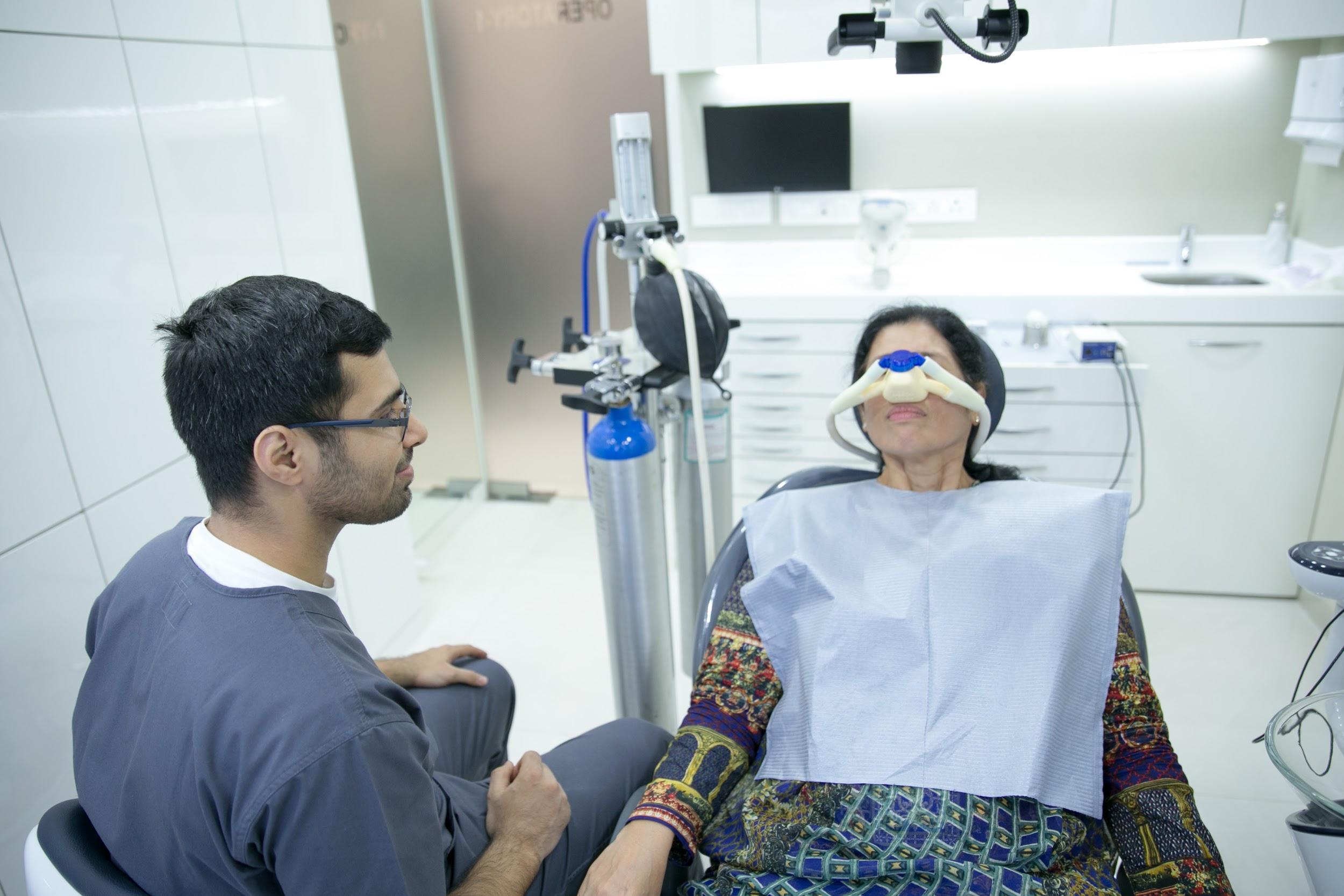 It is the safest sedation technique available for children and adults. Nitrous oxide, also known as laughing gas, gives a soothing effect taking the anxiety off and helping you feel at ease. In fact, many patients feel euphoric. That is why this sedation method is also famous as the laughing gas. All dentists at the dental bond have done their training and certification to administer Nitrous oxide. The dentist handles the nitrous oxide through a breathing mask (inhalation technique) before starting the dental procedure and is present throughout the procedure allowing it to work quickly and effectively.
After the treatment, your dentist or the dental team will turn off the nitrous and have you inhale pure oxygen for 2-3 minutes to reverse the effect. Once you remove the mask, it leaves your system quickly and thus is safe for you to drive yourself home and continue your normal activities. It is also safe for children to use.
This approach not only helps relieve anxiety, but it numbs the affected areas so that the patient can't feel the work of the dentist. There are some of the best dentists in Mumbai that can conduct painless dentistry to give you a delightful dental experience.
2)Medication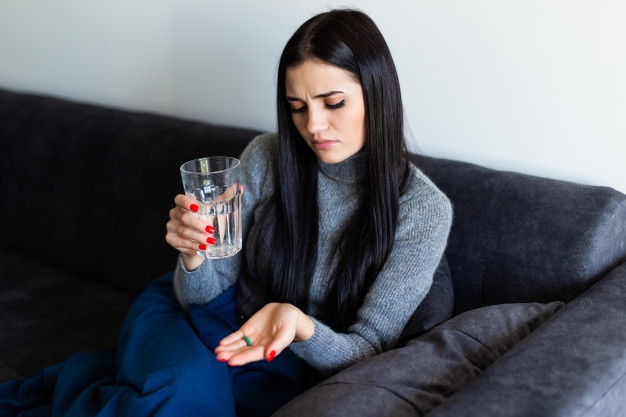 The dentist will prescribe you a light dose of Benzodiazepines that you should take the night before your appointment. Usually, do great with adults and kids. You cannot be driving to and from the practice.
3) Intravenous sedation
It can only be administered by an anesthetist as per the rules laid down by the medical bodies in India. The person will have no memory of the procedure done. Will be drowsy and speak gibberish for the next few hours after the procedure. You cannot be driving to and from the practice or schedule any form of work until the next morning.
4) General Anaesthesia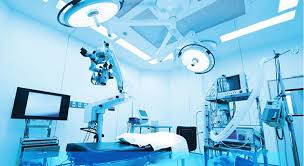 This is carried out in an operation theatre in a hospital. The anesthetist needs to have certain tests done to be declared fit for general anesthesia. This is also carried out by an anesthetist. This is beyond the scope of any dental practice. You will need to be admitted about 6 hours before the procedure and will be discharged from the hospital within 24 hours.
Other advanced technology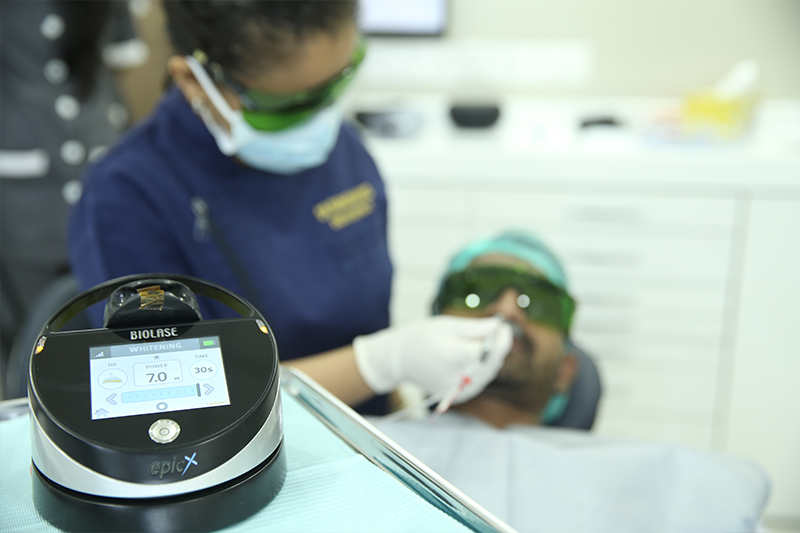 The Dental Bond, one of the best dentists in Mumbai is equipped with other advanced techniques to improve your dental experience. Laser dentistry makes procedures more efficient, bloodless and comfortable and also accelerates healing. Dental lasers can also help you have a painless dental experience.
The Dental Bond team wants you to feel positive about taking care of your dental health. We strive to make every aspect of your visit with us comfortable and stress-free, and sedation dentistry with nitrous oxide helps us do it in a simple, uncomplicated manner.