Do you think there's too much damage happening in your mouth? Do you feel your teeth are flattening out or getting shorter? You're more conscious about your smile? Do you refrain from eating icecreams or eating hard and chewy foods?
If you answered yes to any of the above questions, the next thing to do is to book a dentist appointment.
What is full mouth rehabilitation?
Full Mouth Rehabilitation is restoring the entire mouth that may have problems like missing teeth, worn out teeth, or jaw joint-related issues.
What is the rationale for full mouth rehabilitation?
The idea is to replace the missing teeth, restore the broken down/worn out teeth in a harmonious relationship with the jaw joint.
We provide you with high-quality, long-lasting teeth that you can eat comfortably for a lifetime.
What will you experience after a full mouth rehabilitation?
Your pain in the head, neck, jaws, and in the joint will be gone.
You will be able to eat comfortably.
Your dental problems will progress over a period of time would completely stop as the used materials would prevent any damage in the future.
Restoration of a more balanced, youthful facial structure.
You will notice a dramatic improvement in your teeth, gums, and smile.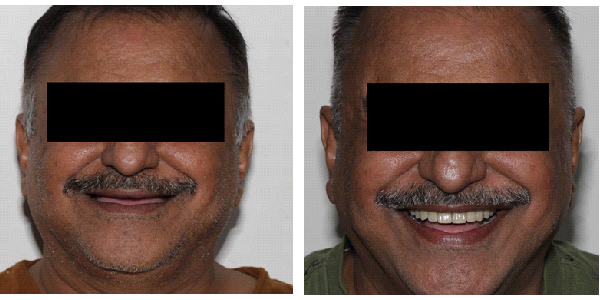 What will I feel / experience to know I need full mouth rehabilitation?
As our teeth age, our dental problems only get worse. Dental problems from gum problems to missing tooth replacement and bite issues. Loss of dental health can result in several changes outside of the mouth. Some of which are loss of face height, jaw joint pain, headaches, neck pain, backache, and loss of appetite. Symptoms like an aged appearance, exaggerated facial wrinkles, and jaw pain can be treated with a Full Mouth Rehabilitation.
Why does tooth wear occur?
Stress, teeth grinding habits, acid reflux, or having a bad bite can all wear down your teeth. These problems can individually ruin teeth and sometimes more problems may co-exist which could worsen the dental problem and aggravate the issues in the jaw joint.
What's the procedure for full mouth rehabilitation?
Depending on the problems in your mouth, they will share appropriate solutions. Consider if your teeth are very weak and fragile, and do not have much life left. Those teeth will be replaced with dental implants or dental bridges depending on what is appropriate in your situation.
Having a crown on a worn-out tooth that has a solid foundation under it is a great way to remedy the damage and prevent it from getting worse.
For people with pain in the jaw. Taking action requires thorough evaluation by a bite specialist. Click on the link to know how tooth wear can be treated. Depending on the discrepancy between the teeth position and jaw joint harmony, splint therapy, orthognathic equilibration, and full mouth crowns may be recommended.
How do I know I'm a candidate for full mouth rehabilitation?
The dentist should be able to tell you the reason for your symptoms and provide you with guidance.
How do I know who's the best dentist to treat my dental problems if I need a full mouth rehabilitation?
You need to look for the best dentist in Mumbai or the best prosthodontist in Mumbai to guide you about your dental health and your smile.  At The Dental Bond, Dr. Husain Harianawala who's a prosthodontist, Speaker, and Fellow for many international organizations globally looks into all full mouth rehabilitation cases. A team of dental specialists performs a combination of treatments to restore your oral health in full mouth rehabilitation. The Dental Bond, one of the best dentists in Mumbai, has an in-house team of dental specialists that cater to all dental needs.
What all does it entail?
Steps involved in Full Mouth Rehabilitation procedure:
Routine Examination – A thorough dental checkup by the best dentist in Mumbai. The dental specialists will analyze your oral health, bite, gum tissue, muscles, and the shape and size of your teeth. Followed by a detailed discussion of your problems and how it has affected you and your dental health.
In-depth examination: The dental specialists will study your X-ray Scans. Dental records like impressions, jaw relations, and photographs will be taken. These records will help the dentist to understand and study your case and plan a customized treatment for you.

Mock-up trial: The dentist or dental specialists will formulate a custom-made treatment plan for you along with a mock-up trial session. Here, you will get to experience how the procedure is going to happen. If you have any suggestions, it can be catered.
Procedure: Your journey to restoring your dental health would begin after you have fully understood the treatment plan. At The Dental Bond, one of the best dentists in Mumbai, we like to keep you informed and maintain transparency about the treatment. The dentist will replace the missing teeth with dental implants. Decays restored by tooth-colored composite fillings or root canal therapy as per the condition of the tooth. Depending on the type of restoration you need and how your mouth functions, specific dental procedures can help you place your new restoration.

If you're thinking Full Mouth Rehabilitation is similar to Smile Makeover, you're not wrong. You should know that both the procedures have a major difference. A smile makeover is a cosmetic approach to give you a better-looking smile, and a Full Mouth Rehabilitation restores your dental health along with a better-looking smile.
Each case for a Full Mouth Rehabilitation is a unique case and requires a customized treatment plan and execution. As it's a combination of treatments and specialization, be wise to do your research and contact a specialist or any best dentist in Mumbai.